PVC piping is one of the world's most sustainable products, making it ideal for long-term term use in underground infrastructure. It requires less energy and fewer resources to manufacture than old-technology materials, and its production creates virtually no waste. Moreover, it is produced with sustainable and abundant resources: chlorine, which is derived from salt, and domestically produced natural gas, which helps reduce consumption of imported oil.
PVC pipe's greatest environmental attribute is perhaps its exceptional durability and corrosion resistance – leading to better water conservation and lower replacement, maintenance and repair costs. A study by the American Water Works Association Research Foundation recently put the life expectancy of PVC pipe at more than 110 years. Its light weight and ease of installation reduce transportation and installation costs, yielding further benefits to the environment.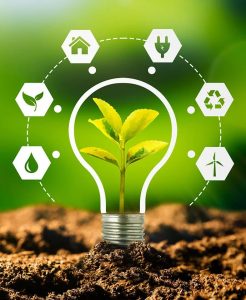 Clean and Safe Manufacturing
PVC pipe manufacturing is extremely efficient, with virtually 100 percent of the PVC compound being used. It takes fifty percent less energy used for iron pipe manufacturing.
There are no smoke stacks at PVC pipe facilities and the product is completely recyclable, making its environmental footprint far smaller than competing piping materials.
Since sustainability involves a social dimension, it's important to look at it in terms of human resources and worker safety. According to the United States Bureau of Labor, the plastic piping industry has an outstanding record in this area, experiencing far fewer injuries and illnesses in every phase of production, on average, than similar industries.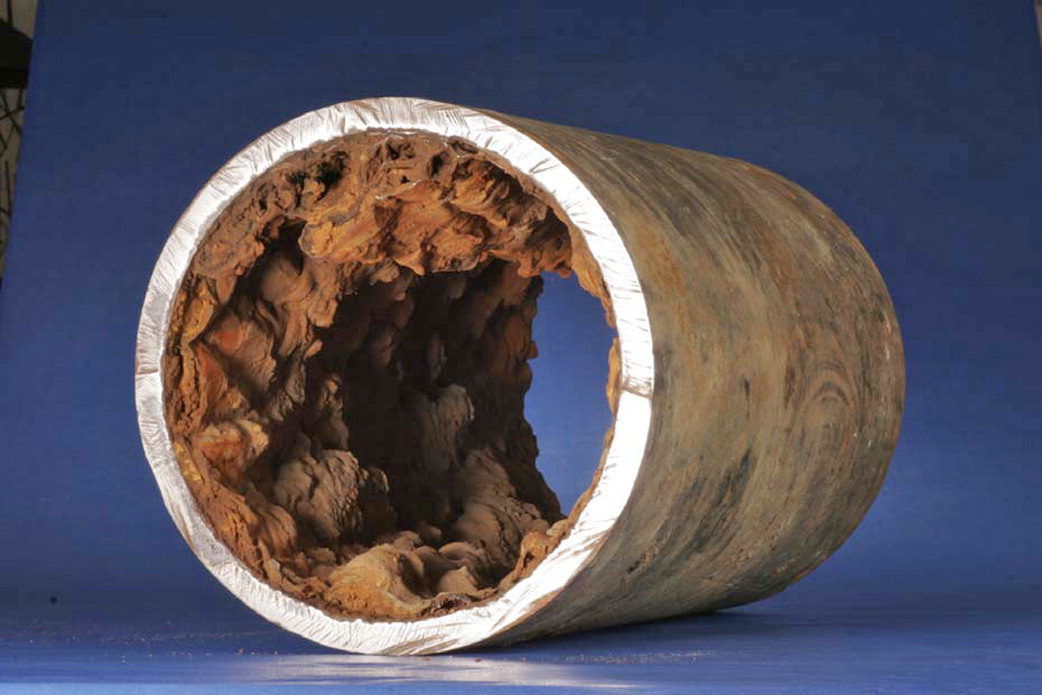 Tuberculation is a form of internal corrosion and bio-film contamination which develops in iron pipes and restricts water flow. It can be a breeding ground for bacteria.
Unlike iron pipe, PVC pipe is not affected by tuberculation. Its smooth, non-corrosive surface stays clean even after decades. An ISO Standard 14025 Environmental Product Declaration conducted for PVC water and sewer pipe, certified by global health organization NSF International, confirms the safety of PVC water pipe: "No known chemicals are released into the water system. No known toxicity effects occur in the use of the product."
A study of water mains in the U.S. and Canada shows a 27 percent increase in breaks and failures during the last six years.
That's 14 breaks a year for every 100 miles of pipe — up from 11 breaks in 2012, which is the last time the study was done by the Buried Structure Laboratory at Utah State University.
Every day, 850 water main breaks occur in North America at a total annual repair cost of over $3 billion. This doesn't include the high costs of emergency equipment, depleted water supply, traffic disruptions, and lost work time. Experts note that corrosion is the leading cause of this water main break epidemic.
Today's corrosion crisis is due to the materials used in America's underground pipe networks over the last 100 years. At first, cast iron was used, with ductile iron gradually replacing it. Both now suffer from the ravages of corrosion.
So what's the solution? Unlike metal piping, PVC Pipes won't rust or corrode over time because it does not react with air and water the way metal does which results in a significantly longer lifetime of the pipe.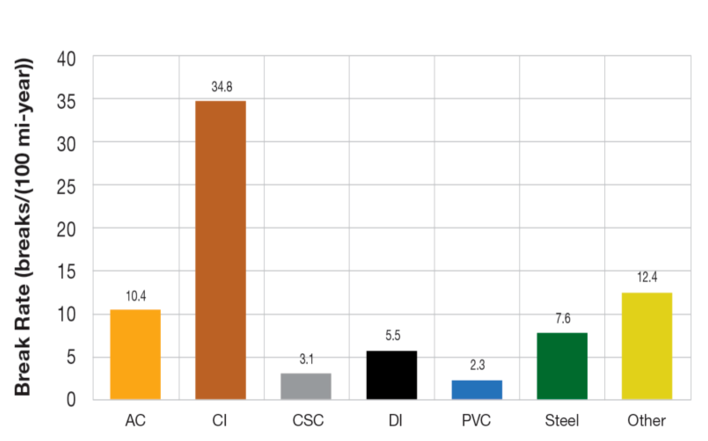 PVC Pipe has the lowest overall failure rate when compared to cast iron, ductile iron, concrete, steel, and asbestos cement pipes.
Lightweight: PVC Pipes offer a tremendous weight advantage over alternative piping materials. The comparatively low weight of PVC Piping means that installers are less likely to get injured, and while it may take a team of workers or mechanical hoists to carry a large section of metal pipe, PVC Pipe is so light that a single person could easily move a long piece. This means fewer installers are required and those hired can get the piping installed comparatively faster than iron or steel. Less weight also means cheaper transport because the majority of transport companies charge by weight. This also enables larger payloads (more pipes) to be loaded.
Flexibility: PVC Pipe's resistance to fracture is an extremely important performance advantage. While PVC Pipes are made from rigid PVC compound, the PVC Pipe itself has the ability to yield under loading without fracturing. PVC Pipes can successfully be used where the surface will be subject to external loading such as road traffic*. The modulus of elasticity of PVC Pipes is a major advantage for buried applications, particularly where soil movement or vibration is anticipated. In pressure applications, PVC's modulus of elasticity also reduces the magnitude of pressure surges
Watertight Joints: A major requirement for all piping applications is joint tightness. PVC Pipes are available with deep insertion, push-together gasketed or solvent cement joints. Gasketed PVC Pipe Joints have consistently outperformed those of traditional pipe products in actual service.
Safe Material: PVC pipe is a non-toxic and safe material that has been used for more than half a century. It is also the world's most researched and tested plastic.
Longer Lengths: This reduces the number of joints required as compared with other pipe products. Fewer joints allow for faster and more efficient installation, less hydraulic friction, and fewer opportunities for leakage.
Design Versatility: The physical properties of PVC Pipes allow designers and specifiers a high degree of freedom when designing new products and developing solutions where PVC acts as a replacement or refurbishment material.