National Pipe & Plastics has been producing polyvinyl chloride (PVC) pipe for residential, agricultural, commercial, municipal and export markets since 1970. National is one of the largest PVC pipe producers in North America. National has two manufacturing facilities, Greensboro, North Carolina and Endicott, New York. National is a full line pipe producer producing plumbing pipe, electrical conduit, and water and sewer products. The sizes range from 1/4" to 48" diameter pipe.
National Pipe & Plastics' products include:
Water Pipe for Transmission and Distribution
Sewer & Wastewater
Electrical Conduit & Fittings, including Telephone and Communications Duct & Fittings
Plumbing & Industrial Pipe, both Pressure and Drain, Waste & Vent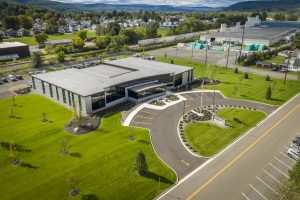 Through marketing and product diversification, National Pipe & Plastics has achieved significant market penetration and steady growth amid a sometimes volatile economy. National Pipe & Plastics' seasoned management is dedicated to the strategy on which the company's success was built: The production of a variety of quality products for a diverse group of markets servicing areas East of the Mississippi River.
The addition of new products and increased capacity strengthens National Pipe & Plastics' leadership position in its regional markets. The plastics pipe market is expected to grow with the continuing acceptance of PVC especially as new applications are discovered. PVC's durability and ease of installation make it a natural replacement for deteriorating metal pipe.
In the coming years, management will remain committed to cost containment, hands-on leadership and high capacity utilization that has made us a nationally recognized leader in our industry.